Jsem vážně zvědavý, jak moc ten vliv
worm tub
bude v té whisky znát:
Ardnahoe whisky distillery opens on Islay
.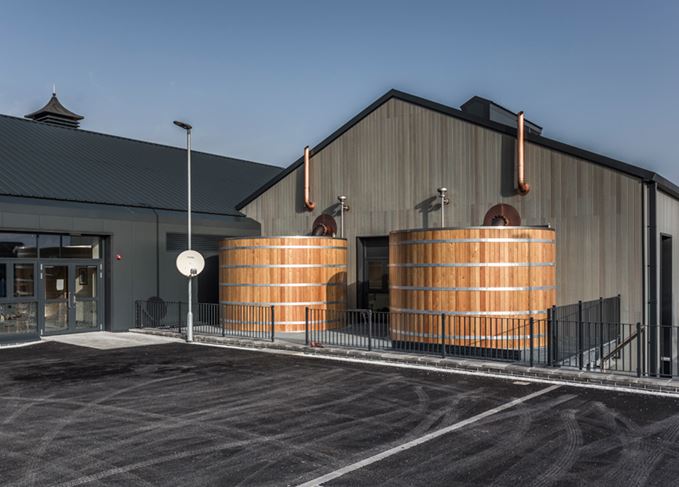 no to asi těžko poznáš když není jejich whisky bez červa
Moudrý administrátor

Příspěvky: 10126
Registrován: 23 úno 2011, 15:28
Bydliště: Olomouc
Kontaktovat uživatele:
Určitě bude dobrá na spálení červa.
WhiskyBase
- -
Untappd
- -
Vivino
- -
Palírny
- -
Recenze
Jo, to mě samozřejmě také napadlo. Já to myslel spíše ve srovnání s jinými Islay whisky. Jestli je prostě vůbec možné, aby to bylo fakt zatraceně fest mimo něčím specifickým. Což je asi blbost. Ostatně, počkáme pár let a uvidíme, že ano.
Oblíbené téma zas a znovu, tentokrát opravdu velmi podrobně zpracované. Zajímavé názory jak ohledně užití Wine Preserve, tak parafilmu.
How Best to Store Your Whisky
Итальянский виски: визит на Puni Distillery
Pro ty, kteří nevládnou azbukou, následuje překlad do angličtiny:
Here is my report on the visit to PUNI Distillery in Italy in April. A lot of technical things and so on, information about the regular releases is at the very end of this long read.
What do you associate Italy with? With the Roman Empire? With an amazing cultural heritage — sculptures, paintings, architecture? With the fashion industry and designers' clothing? With a light and melodious music? With spaghetti and pizza, mozzarella and parmesan cheese? With a wine, Martini, Campari or limoncello? With ristretto or espresso? Organized crime, the mafia? It is not possible to count what Italy has given the world… Meanwhile, for me, Italy is quite naturally associated with whisky. Why? Maybe you will be surprised, but in the 1970-s Italy was the world's biggest (!) market for single malt Scotch. Such names as Samaroli, Silver Seal, Valinch & Mallet, Wilson & Morgan – names of independent Italian bottlers – are well-known for the true whisky connoisseurs. It is also not well known that a five-year-old Glen Grant, a single malt, began its journey from the Italian market in 1961, two years before Glenfiddich, which is considered to be the first single malt brand in the world, was launched in the United States. And it was a man from Glen Grant, with his experience of single malt sales in Italy, who was invited to the Macallan, which is considered to be the second brand of single malts in the world (launched in 1968): the Macallan team created a true marketing miracle finally, but that miracle had its start with dumping sales of seven-year-old single malt release at the same Italian market.
How has it happened that Italians, who love and drink whisky, do not have their own distilleries? Actually, they had almost everything, but not their own whisky, and, finally, now Italian producers of whisky appeared! It would be fair also to note that at least two of three distilleries are located in or near South Tyrol, which was on the territory of the Austro-Hungarian Empire a certain number of years ago; so, you may hear people at distilleries using German language in their everyday life.
So now you understand why the name of the owner of a construction company and a whisky connoisseur Albrecht Ebensperger, who decided that Italy needs its own whisky, sounds not very Italian. But it was him and his family who built the first whisky distillery in Italy – the PUNI Distillery, which started to work in the year 2010. Quite a lot of time passed from the idea to the implementation (it took two years just to order and to receive pot stills from Forsyths), but this time was not wasted – a local architect has created a highly original, unusual and stylish building in the form of a cube built from bricks. The architect was inspired by the elements of traditional South Tyrol granaries while working on the design – such windows helped to air rye, which was harvested here in huge volumes previously. Moreover, this building is incredibly functional also — there is a production area downstairs, a visitors' centre at the ground level and office space upstairs.
Lukas Ebensperger, one of the three Albrecht's sons, met me in the visitors' center. He told me very interesting things that are quite unique for the whisky industry, and it is my pleasure to share them with you.
First of all, the Italian Malt Whisky is not a whisky made solely from barley. A mixture of barley, wheat and rye is used, although barley prevails in the mashbill (rye and wheat are local; barley is «a stranger»; now the distillery experiments with the local barley). You may think that it is a sort of the US "mashbill" whisky production, but this is not the case. Firstly, all grains are malted – the local grains are transported to Germany especially for malting. Secondly, all malts are mixed together and then milled and washed, i.e. the further technological cycle has little differences from the classical way of production, whereas in the United States they use unmalted grains, which are milled separately and then boiled. Further, only natural enzymes are used for the saccharification process.
An eternal "porteus" type mill is used for making grist (left) and grist is rinsed with two waters, 65 and 85 degrees Celsius in a semi-Lauter tun with a copper lid. Dry distillers' yeast and five mash tuns from a local wood are used for fermentation – at Puni they believe in the "life" in the mash tun after the "death" of yeast (in processes attributed to lactic bacteria particularly). So, fermentation lasts for up to 96 hours. As well, Puni believes that despite any cleaning the wood of tuns retains some bacteria, and with time Puni will receive its own unique yeast strain. Wash is not very strong at Puni, usually slightly over 7%.
Upon looking at the shape of the pot stills, sophisticated readers may guess that Albrecht Ebensperger obviously has some feelings to Glenmorangie whisky. Both wash and spirit stills have the same shape but differ in size – 2 and 3 thousand liters. Despite the fact that in general stills look ordinary, they are equipped with a unique heating system in order to keep the water in coils not turning into steam (the aim is to heat the liquid inside the pot still absolutely evenly). The water in the system is under pressure (double coil system is used); as a result, the water does not convert into the steam even at the temperatures of 110-120 degrees. The idea came from the customer's engineers, therefore, for Forsyths, it was a completely new experience to install such a system.
«Hearts» strength is 71-72% ABV – at Puni, they cut manually using alcohol meters, and they usually do not take distillate below 64-65%. The distillate is not accessible during the distillation process: whisky production is a novelty for Italian financial guardia, and the valiant local tax signora are at least in the middle of the last century from the perspective of fiscal control in Scotland, where spirit safes are now just a technological element of the production process, rather than an instrument of tax control. Puni's safe is sealed, there is no access not only to newmake: guests can not visit warehouses, for example. There are 140 (one hundred and forty!) different seals from the tax authorities at the distillery.
Three types casks are used mainly – ex-bourbon (Puni does not buy barrels in the United States directly, it receives casks from a friendly distillery in Scotland, which shares own supplies with Puni); casks from the Sicilian dessert wine Marsala, and other Italian wines casks. The distillery has also barrels after Islay whisky, which are used for finishing. Puni does not work with peated malt. The distillery uses casks in the same condition as it receives them: «toasted» wine casks made from the European oak and ex-bourbon American oak barrels of medium charring level.
Casks are filled with a newmake diluted up to 60% ABV. This is also not a usual strength, and it is caused, on the one hand, by the Italian requirements for storing high spirit content liquids (above 60% ABV, the same way like in Taiwan), and, on the other hand, by quite specific climate of the Southern Alps: the annual fluctuation of the temperatures is over 40 degrees Celsius, so, the barrels are working very actively, and the distillers feared that high ethanol content would accelerate this process (here I should note that water-ethanol mixture has the maximum interaction with a wood at the volume of ethanol around 58%).
A warehouse of Puni with a big annual temperature difference. It was not measured especially, but Puni estimates annual losses at the level of 5 percent, which is considerably more than in Scotland and close to Taiwan (6-7%). Meanwhile, Puni has another type of warehouses – situated in the former military fortifications left from World War II. There, on the contrary, the annual temperature fluctuations are insignificant, so, casks from that warehouses have not been used for whisky production yet: they are intended for long ageing, more than 10 years. We will hopefully learn soon enough whether it was justified, since the distillery, let me remind, started to work in 2010.
Another unusual fact: there is no master distiller at Puni. Whisky is created by all the family members together! So, they work on every batch all together and the decision is made by consensus – just like in Japan!
Puni whisky bottles have no less beauty than the distillery itself. You just want to grab one of them from the shelf to take it away with you. A local young man designed the bottles and it must be admitted that in everything concerning the design and appearance the Italians are still ahead of the world. And what's inside these bottles? Frankly speaking, I started not with whisky but with their new make. And it completely justified my expectations — very light, quite fruity, sweet, with the malt notes and a pleasant spiciness. Some rye-related notes are noticeable only at the finish, and only if you know what to look for. Wheat gives this newmake the body – it is an excellent work ready for maturation!
And then followed a lineup of the current regular releases:
NOVA: 43% ABV, this whisky will leave the regular releases bundle soon. In addition to the maturation in bourbon barrels, Nova was finished in a new European oak during 1-1, 5 months. The enthusiasm and strength of a virgin wood are reflected perfectly in this whisky – it is young not only by its age but by its nature: it is quite assertive and spicy. I would classify this whisky as aperitive.
GOLD: 43% ABV, five years in ex-bourbon barrels. I would say that this whisky has a classic profile for the maturation in bourbon – lots of vanilla, etc. The whisky is very light and very easy drinkable, not too complicated and thus not requiring too much attention to itself. I should say that it is a perfect table whisky.
SOLE: 46% ABV, 2 years in ex-bourbon barrels, after which Sole goes for another two years in Pedro Ximenez casks. This is a wonderfully balanced whisky, no either predominant influence of bourbon barrels nor excessive sherry pressure. I felt very nice tannins at the finish and in the aftertaste, it is a very universal kind of a drink.
VINA: 43% ABV, matured five years exclusively in ex-Marsala casks. By the way, the distillery does not use colouring, so colours of all Puni whiskies are natural, and Vina's colour is expectedly darker than all its brothers have. I like the effect that Marsala casks give whiskies, but I had tried finishes only. Here is the whisky which saw nothing but only the Marsala casks, and there were first fill casks. I tested such type of whisky for the first time and I was not disappointed. It seems that the combination of the local "active" climate and European oak, from which the casks were made, sets the ageing limit exactly to five years plus-minus: if to mature whisky longer, there is a high possibility to have too much oak influence on it. This whisky has a very good mix: tannins, wine tones, the absence of excessive sweetness – I liked it very much.
ALBA: 43%, 2 years in Marsala, and then another year in Islay casks — in the casks which were filled with peated whisky previously. I should say that it is an amazing result for three years of maturation, Alba is very vivid and quite a peaty whisky. In blind testing I wouldn't say that this whisky got its peatiness just by from the contact with peaty casks, I would probably decide that this whisky is made from peated malt. A combination of winy and peaty tones almost always gives interesting results, but I was really surprised that it happened in such a short time span. An excellent digestive, one bottle of this whisky left the distillery with me.
My story comes to the end, so, I would like to mention all those moments that make Puni whisky interesting and worth-to-try by whisky connoisseurs to make their own opinion:
- The whisky is produced from a mixture of malted barley, malted rye and malted wheat;
- Puni utilizes a long process of fermentation (up to 96 hours);
- Slow distillation in a high pot stills with an unusual heating system (water under pressure);
- Active use of whisky matured in ex-Marsala casks made from the European oak in different releases;
- Specific climatic features for whisky maturation, which force casks to work very actively.
I wish to thank Lukas Ebensperger once again for a great time I spent with him.
Besides, I invite the readers to guess in comments why Puni has this logo. What does it symbolize?